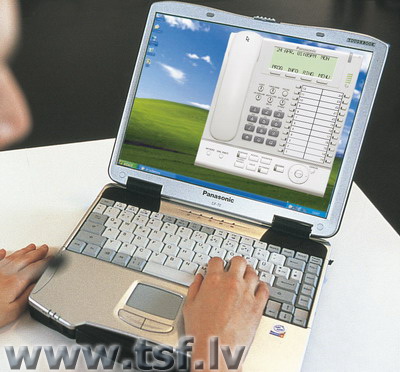 IP Softphone
Bring Your Distributed Offices Closer Together with the Ease of IP
Panasonic is pleased to announce the release of IP Soft-phone. IP Soft-phone is a PC software addition to Panasonic's IP PBX telephony product line that turns your PC into a system telephone. The IP Soft-phone can function as a primary desktop IP phone, supplementary phone or as a communications tool for the telecommuter.
IP Soft-phone functions on a PC that is connected on the same TCP/IP networkas the KXTDA 100/200/600, either by the local area network or a wide area network using a VPN connection. This soft-phone provides you with PBX connectivity and convenience wherever you have broadband access. IP Soft-phone is extremely easy to use; if you can use a KX-NT136, you can use IP Soft-phone. The GUI that appears on your PC screen actually looks and operates just like the KX-NT136. The major difference is, the telephone functions are controlled using the mouse and keyboard on the PC, for example: to make a call, click on the programmable CO Key (the display will show you the line you are connected to), then dial the call from the keyboard or click on the IP Softphone dial pad. 
The only other hardware that is required for the IP Soft-phone is a PC compatible headset or PC speakers and microphone. Using a PC headset will most likely provide the best quality and flexibility when traveling.The IP Soft-phone is actually a system telephone; supporting full PBX functionality, Toll Restriction, ARS, ICD Group settings, SMDR and Class of Service. The following will explain the system requirements and features of the IP
Soft-phone: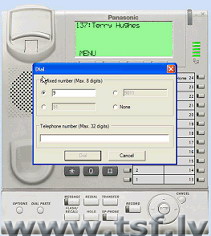 Requirements 
IP Soft-phone operates exclusively with the KX-TDA100/200/600 IP PBX systems equipped with an IP Extension card KX-TDA0470. Each IP Soft-phone requires one Channel or IP extension port in the KX-TDA system. The TDA system requires software version 2.0 or higher. It can be connected anywherewithin a local (LAN) or wide (WAN) area network via VPN. 
PC Requirements
To install and operate IP Soft-phone, the PC must meet the following minimumsoftware and hardware requirements:Microsoft® Windows® XP Professional SP2CPU: Pentium® M 1.86 GHzRAM: 512 MBHDD: 50 MB available space (when installing)Display: XGA (1024 x 768)LAN (Ethernet): 100BASE-TPeripheral Devices: Sound Board, Speaker, Microphone, CD-ROM drive  As noted above, the IP Soft-phone emulates the KX-NT136 IP Telephone, sofeature operation is very similar. To operate the IP Soft-phone is simple; in placeof pressing buttons, you use the PC Mouse. Move the mouse pointer over thedesired button and click. The illustration below shows the image that will appearon your PC when you bring up IP Soft-phone.
 The feature differences from KX-NT136
The IP Soft-phone has one ring tone. Programmable melodies and ring tones are not available.Automatic Redial is available only for ISDN lines.Key click tone is not available.